Ben Hart
Owner, Lead Presenter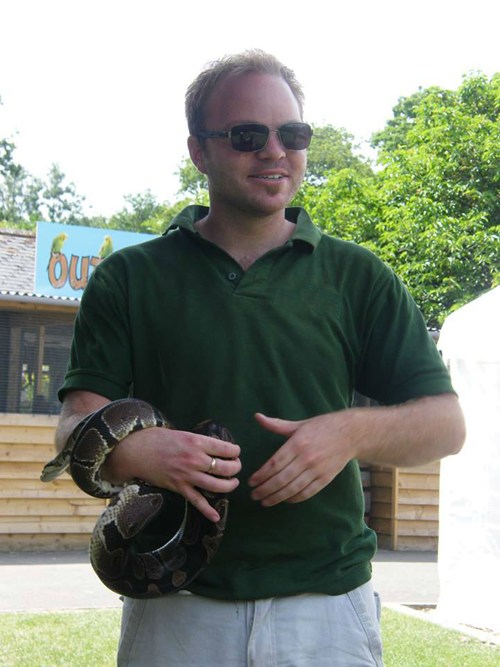 I grew up in Cornwall in the UK where my parents are care home owners for young, physically disabled individuals. I grew up in this environment and as a result ended up with experience in handling a range of learning difficulties and disabilities in people. Although this was my background the animal kingdom was always my passion and my parents always encouraged my obsession for everything and anything to do with the natural world.
I would spend my Summers rock-pooling at the beach or bug hunting in the woods. Over the years I became the proud owner of several exotic and scaly pets furthering my interest in the animals we share this world with.
After doing various work placements and Summer jobs working at farms, vets and rescue centres I completed a biological sciences degree in Animal Behaviour and Welfare at Plymouth University. During this time I was lucky enough to get into the zoo industry with my first job as a zoo keeper at the local zoo where I was able to get experience working with a variety of animals from pygmy goats and meerkats to tigers and bears.
After 2 years working as a keeper I decided I wanted to move into the education side of zoo work and managed to get an education officer position. I was now responsible for public talks, training of the animals for demonstrations and working with visiting school groups teaching them about the natural world. I also regularly visited schools and care homes around the area with various animals teaching a range of topics. 2 years on I got promoted to the head of the education department and was able to implement many new ideas as to what we could offer schools and care homes.
After four years I decided to challenge myself further and Wild Encounters was created where I can put everything I've learnt over the last few years into visiting schools, care homes, parties and anyone else who would enjoy a visit from our many different and fascinating animals.
Liam Fitzgerald
Owner, Marketing and Accounts
I was born into a typically large Irish family in the small village of Kildimo in Co Limerick. I always had an interest in animals and between myself and my siblings we owned many pets over the years. I would also regularly sneak off to my Grandparent's farm to help look after their many animals too.
Although I had an interest in the natural world life led me to following in my father's footsteps into the building trade. I qualified as a Quantity Surveyor with the hopes of securing a job close to home. Unfortunately the recession hit Ireland, and like many of my generation was forced to look elsewhere and eventually managed to find a job in London.
Over the years I moved up the career ladder until I gained the position of UK Commercial Manager for a major Facilities Management firm and enjoyed the experience it gave me. By this point numbers and spreadsheets just came easily to me but my heart was still with Ireland and I couldn't wait for the chance to get back.
I met Ben in 2011 and between us worked out that we had the skills to make a business like Wild Encounters work. With my passion for animals and financial capabilities combined with Ben's qualifications and creative approach to animal education I really feel that Wild Encounters will fascinate both young and old with our informative, creative and energetic shows.