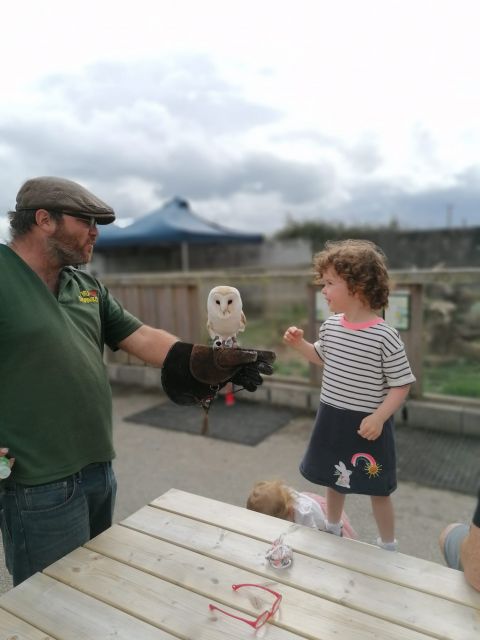 Welcome to Wild Encounters Mini Zoo, the small zoo with the big heart!
We're a small, zoo licenced animal facility based just outside Newcastle West, home to a range of exotic and domestic animals, many of which have joined us as ex-pets from the exotic pet trade. All the money we bring in from visitors coming to see us goes back into the site and caring for the animals that call Wild Encounters their home.
Wild Encounters itself started in 2015 as a simple outreach programme, visiting schools, nursing homes, events etc as a mobile educational unit for the natural world. As time went on and we expanded with more and more animals coming into our care we decided to move to a new bigger site in 2018 and work on opening to the public as a visitor attraction and education centre. We knew that this was going to be a mammoth job but figured we could continue the outreach side and tip away on-site over the next few years until we could reach our long term goal of opening.
The year 2020 came along and we had high hopes for the year to come, we had been working hard and were potentially looking at starting our birthday party packages on-site as our first big step towards opening the site to general public! As we all now know, fate had other plans and a quarter of the way into the year we were hit with a potential catastrophe in the form of covid-19. Overnight the outreach side of Wild Encounters (our main source of income to keep the animals well and fed) was forced to stop and we were faced with the very real possibility of not having the money to keep going! We knew that the only way we and the animals were going to survive this pandemic was to drastically and quickly change the way Wild Encounters functioned and so although we knew it would sadly spell the end for the outreach side, we spent the first lockdown building and adapting the site to a point where we could open up to the public on a small scale which would allow us to still bring some money in while adhering to the many restrictions put in place for the public's safety.
In August 2020 we welcomed our first general admissions visitors to Wild Encounters and since then we have continued to develop and welcome more and more of you to our little site despite being locked down several more times since! As was for everyone, it has been a very hard couple of years and we still have a huge amount of growing to do with lots of big plans for the future, but we are SO thankful to the visitors that have come to see us and get what we're all about and where we are going with it all, without your support over the last couple years we and the animals would truly not still be here so thank you so much and we look forward to welcoming you here for hopefully years to come!